Wednesdays trading in the GLD produced an interesting gap. I added the brown shaded support and resistance zone back in the summer months after it became apparent that GLD had broken out to the topside. The brown shaded S&R zone was tested several times from above and held just as one would have expected. After GLD topped out the price action began to decline into the fall where GLD then built out a bearish expanding rising wedge as a right shoulder that matched the left shoulders bullish expanding falling wedge.
Note the last bar that formed inside the bearish expanding rising wedge right shoulder which was the election spike. The next day the price action broke out below the bottom rail of the expanding rising wedge which was a negative development. The very next day GLD broke below the neckline which was another negative development. The very next day GLD traded down to the top of the brown shaded S&S zone and could only muster a very small rally that quickly petered out. Wednesday of this week GLD gapped below the brown shaded S&R zone with a little follow through today. It looks like Wednesday's gap to the downside may be a continuation gap which suggests there is more downside to follow. The brown shaded S&R zone should now be a very good line in the sand, below is bearish and above is bullish.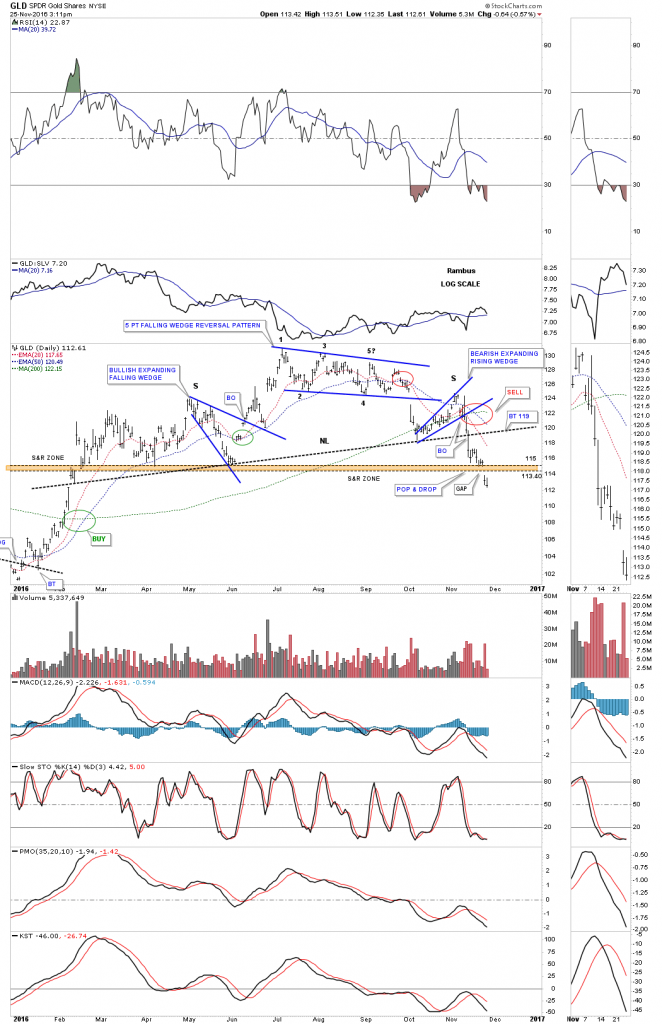 The weekly chart for GLD for perspective.