This weeks chart was suggested by aulover who is interested in AUY, Yamana Gold. Of all the precious metals stocks that I track I have to say AUY has one of the stronger looking chart. We'll start out with just a simple horizontal support and resistance zone. As you can see when AUY was below the S&R zone, brown area on chart, the price was always turned back, blue arrows. Then in August of this year it finally succeeded in breaking thru the resistance barrier that then reversed it's role and held support green arrows. Note the nice pickup in volume when AUY was finally able to penetrate the brown resistance zone.
AUY daily support and resistance zone.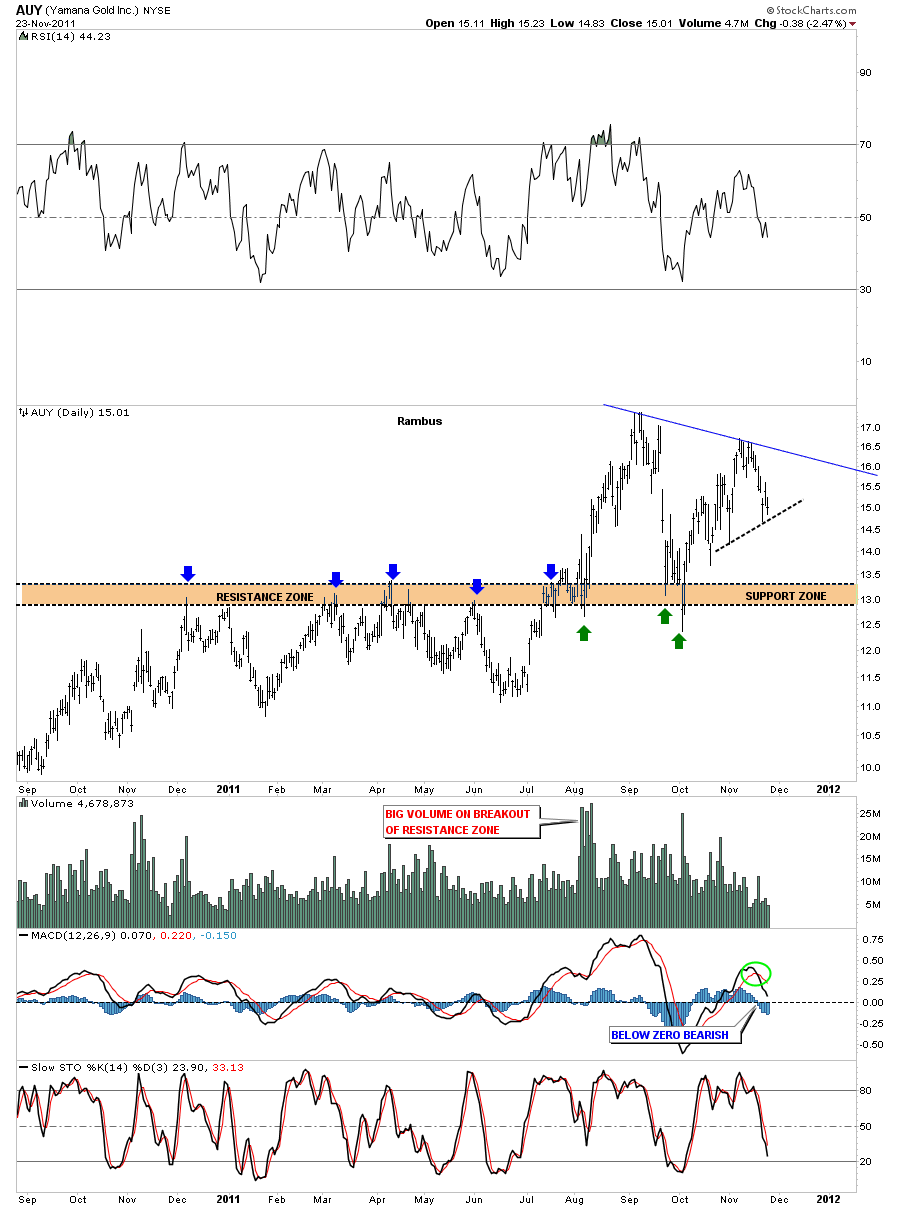 The weekly look goes back 6 1/2 years. There are two beautiful Diamond patterns. One was a 7 point diamond that formed the major top just before the big panic crash of 2008. Seven reversal points made it a reversal diamond pattern. The next diamond was formed after the first rally after the 2008 crash that chopped out an eight point, 2 1/2 year diamond consolidation pattern. It finally broke through the top rail of the diamond in July of this year which led to a 5 point rally. From there, like most precious metals stocks, AUY hasn't been able to run to new all time highs. Close but no cigar yet. It looks like it could be in the process of building some type of consolidation pattern, maybe a triangle or a bull flag. Its to early yet to make any predictions. We need at least one more move lower and then a strong reversal from where ever that low comes in. I think its still too early  to jump in. Patience can be a virtue in the stock markets.
YRI.TO weekly diamonds.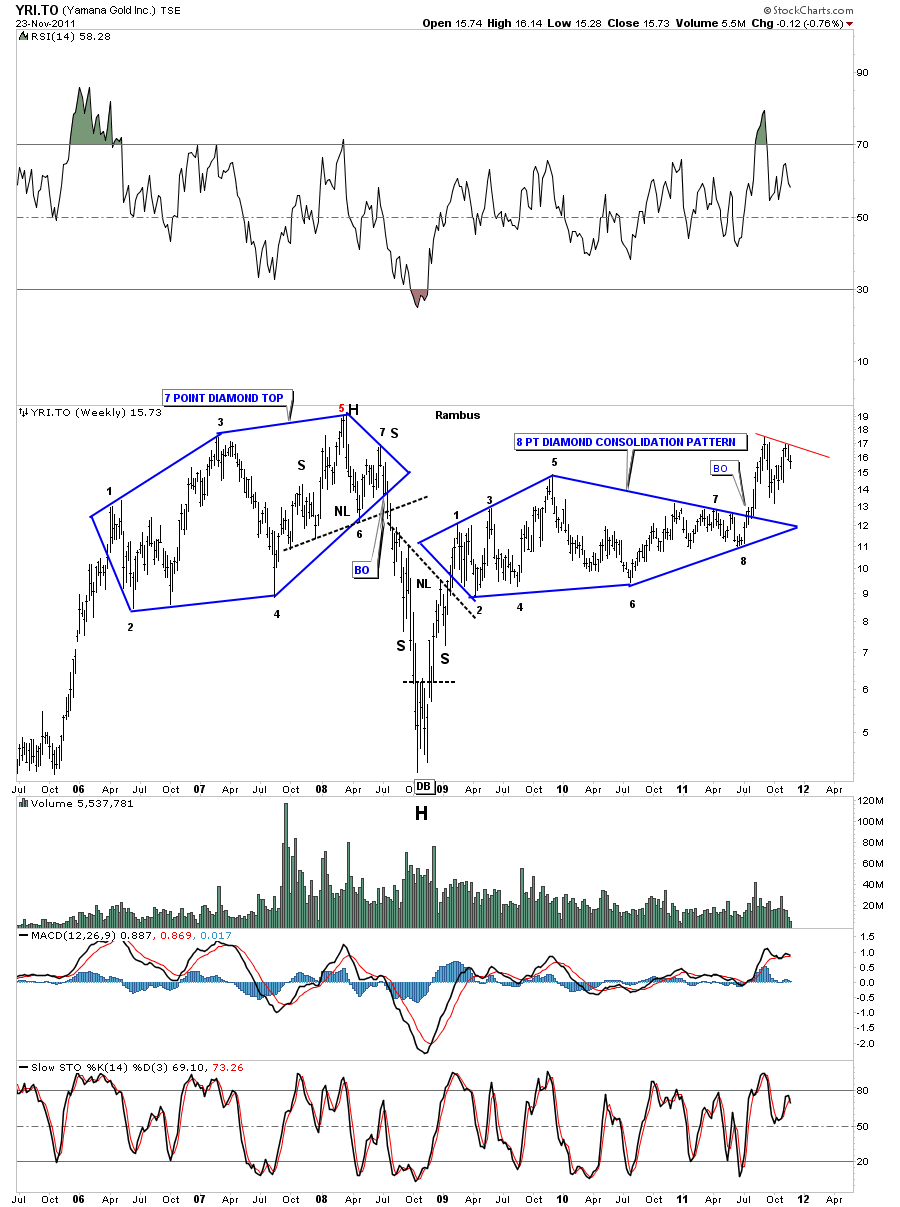 The monthly chart shows the big H&S base that was built between 2000 and 2005 that launched YRI.TO's bull market. I've marked in red the 9 month sideways trading range that helped Yamana finally break through the top rail of the diamond.
YRI.TO monthly look.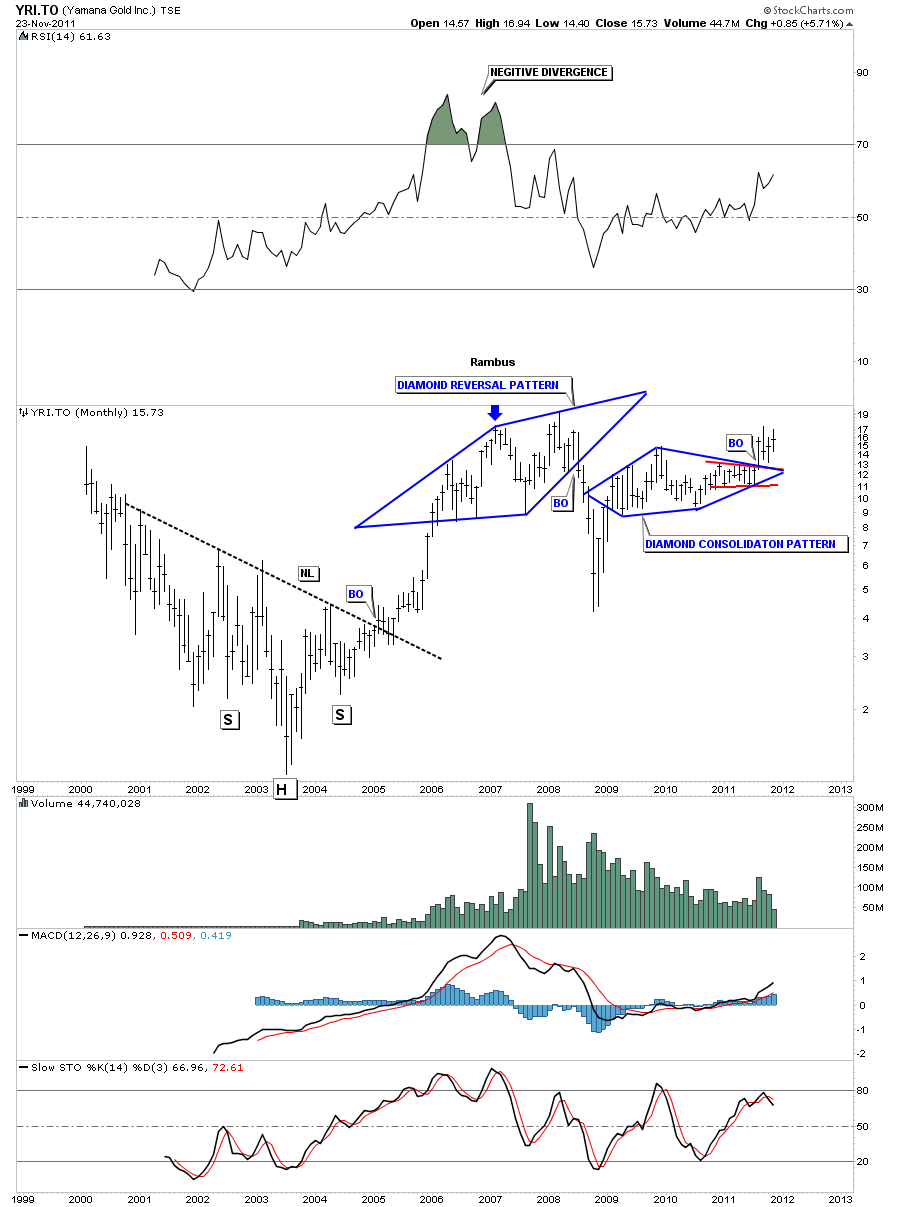 Bottom line with Yamana Gold is that it is one of the stronger precious metals stocks right now but that doesn't mean it can't go lower in here. There are many precious metals stocks that are looking very weak with some breaking down from bear flags this week. I would urge a little caution and patience in here until this correction has run its course. There may come a time in the not to distance future where we can buy up some of the better looking precious metals stocks if you have cash on hand to do so. I hope this look at Yamana helps you understand where this stock is and with alittle patience you will be able to buy in at a cheaper price.
All the best aulover….Rambus